Child Protection
"Schools have a duty of care to protect children and prevent them from harm, and act with a sense of urgency if a child is at risk of harm."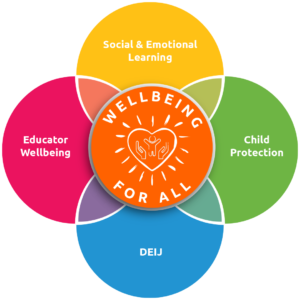 International Task Force on Child Protection, School Evaluation Committee
Child protection is one of the three strategic programmes that form our Wellbeing for All goal.
For students to learn, they must feel safe, connected, and supported which is why AISA is committed to ensuring that all member schools are safe places of belonging for their community. Safe schools are schools where children are free from harm and abuse, and it is vital that schools play a proactive role in preventing students from harm and responding appropriately to those that need our protection and support.
AISA has been at the forefront of promoting child protection and safeguarding in international schools since the publication of its seminal Child Protection Handbook in 2016. Since then, AISA has continued to be a leading voice in the international school sector, creating resources, online community groups, and learning events that support member schools to implement best practice child protection programming that promotes the safety and wellbeing of all students.