What Educators Should Know about the How the Brain Works in Middle School
When it comes to teenagers, a little study of neuroscience can go a long way.
In middle school, teachers are typically trained in (or learn by experience) the importance of classroom management, differentiation, and the need for varied assessment. However, studying the teenage brain and what it's needs may be for effective and meaningful learning is often overlooked. This does a disservice to both educators and students, since during middle school, these distinct years are marked by rapid and extensive brain development that should not be ignored.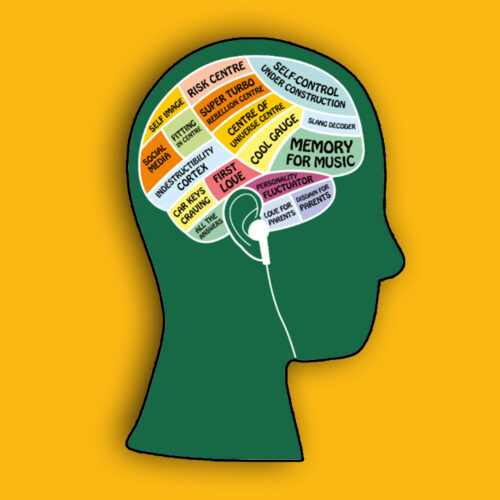 To address this gap, a well-researched curriculum model has been developed by the International Middle Years Curriculum (IMYC). The IMYC's teaching model identifies six key needs of the teenage brain that are critical for their academic and overall development. These needs are captured by the acronym IMPART: Interlinking learning, Making meaning, Peers, Agency, Risk-taking, and Transition.
Interlinking learning is the first critical need identified by the IMYC. It addresses the teenage brain's cognitive functioning and long-term memory retention. As neuroscientific research reveals, the brain learns through an 'associative' process where new information is linked with previously stored data. This interconnection between new and old information aids memory retention and overall understanding. The IMYC model, therefore, stresses the importance of weaving conceptual connections, known as Big Ideas, throughout the learning journey.
Big Ideas serve as a connector among various concepts as students navigate from subject to subject and lesson to lesson, encouraging students to identify links across subjects and apply their understanding in an integrated manner. Interlinking learning contributes to a teenager's cognitive health which can foster a sense of academic achievement and competence, leading to improved self-esteem and mental well-being.
The second key need, making meaning, addresses the adolescent brain's 'pruning' process. This process strengthens the most used synaptic connections while eliminating the weaker ones, thereby enhancing the brain's efficiency. However, the risk is that if important connections aren't regularly utilized or lack significance for the learner, they can be lost. Therefore, the curriculum should focus on real-world application and experiential learning to create meaningful connections with learning experiences. When teenagers see the relevance and applicability of their studies, they are more likely to be engaged and interested, leading to reduced frustration and increased satisfaction in their academic pursuits.
Peers, the third key need, plays a fundamental role in teenage brain development. During adolescence, the brain's reward systems are highly responsive to peer interactions, significantly influencing both the reward system and decision-making processes. Peer relationships offer multiple benefits for learning during these formative years. They foster a sense of community and shared purpose, promote positive approaches towards learning, and provide opportunities for social learning. Including peers in the IMPART model acknowledges the vital role of social relationships in adolescence, which not only enhances academic outcomes, but also boosts social skills and emotional well-being.
The fourth need, agency, involves providing students with opportunities to make decisions, take responsibility for their learning, and experience the consequences of their actions. By encouraging agency, educators foster their students' autonomy and resilience. This can be achieved through project-based learning, student-led discussions, and self-evaluation activities, encouraging students to take ownership of their learning. Agency also helps teenagers develop a sense of identity and self-efficacy which fosters resilience, reduces stress and anxiety, and empowers students to face challenges with confidence.
Risk-taking, though often viewed negatively, is also an essential aspect of adolescent development, and is the fifth need of the teenage brain. Adolescents value the rewards of risk over it's potential downsides, particularly when social factors are involved. Learning should facilitate safe risk-taking, such as undertaking challenging tasks or presenting in front of peers. Risk-taking encourages students to step out of their comfort zones, which helps them manage anxiety and fear associated with failure or judgment. It promotes a growth mindset, where setbacks are seen as opportunities for learning rather than failures.
Lastly, transition refers to the capacity to adapt to changes that are frequent during middle school years. Educators can aid this process by providing explicit instruction on managing change, creating supportive environments, and establishing clear expectations for the next phase of learning. By successfully managing these transitions, students not only develop adaptive skills but also enhance their emotional resilience, helping to reduce stress and anxiety.
In conclusion, understanding the needs of the teenage brain, such as the IMPART model from the IMYC, ensures an alignment of teenagers' cognitive and emotional development. It helps to shape a holistic educational experience that enhances not just academic learning but also contributes to the overall health and well-being of students, shaping them into resilient, responsible, and successful adults.
Similar posts
See all posts