Almost every international school has a mission or vision that includes the idea of developing global citizens, or compassionate students who take action for sustainability, but very few institutions have whole-school approaches that aim to supportively and sustainably empower community stakeholders to enact that mission. Just like our students, educators and school communities require supportive, scaffolded, long-term, reflective and responsive implementation plans to ensure that global citizenship education, education for sustainable development or service learning lives in the fibres of a school on a daily basis.
I will have an opportunity to speak more about this at the upcoming AISA Service Learning Conference Day on Wed. 27 April 2022. I will also share information about Inspire Citizens' Empathy to Impact model (a model that aligns with the 5 stages of service learning) and explore two facets of successful service programs that get to the root of local and global issues. These facets are school systems that support successful service program implementation and immediately applicable educator resources that empower students to facilitate and develop reciprocal and bidirectional service learning.
At Inspire Citizens, we seek to support school leaders and educators to design student-centred learning experiences, offering transformative professional development, and supporting school-wide communities in education for sustainable development, service learning, and engaged global citizenship.
Click Here to find out more and register for a dynamic day of learning.
Aaron Moniz
Inspire Citizens – Founder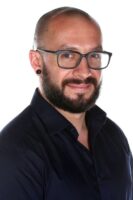 Similar posts
See all posts