An MYP Service Learning Story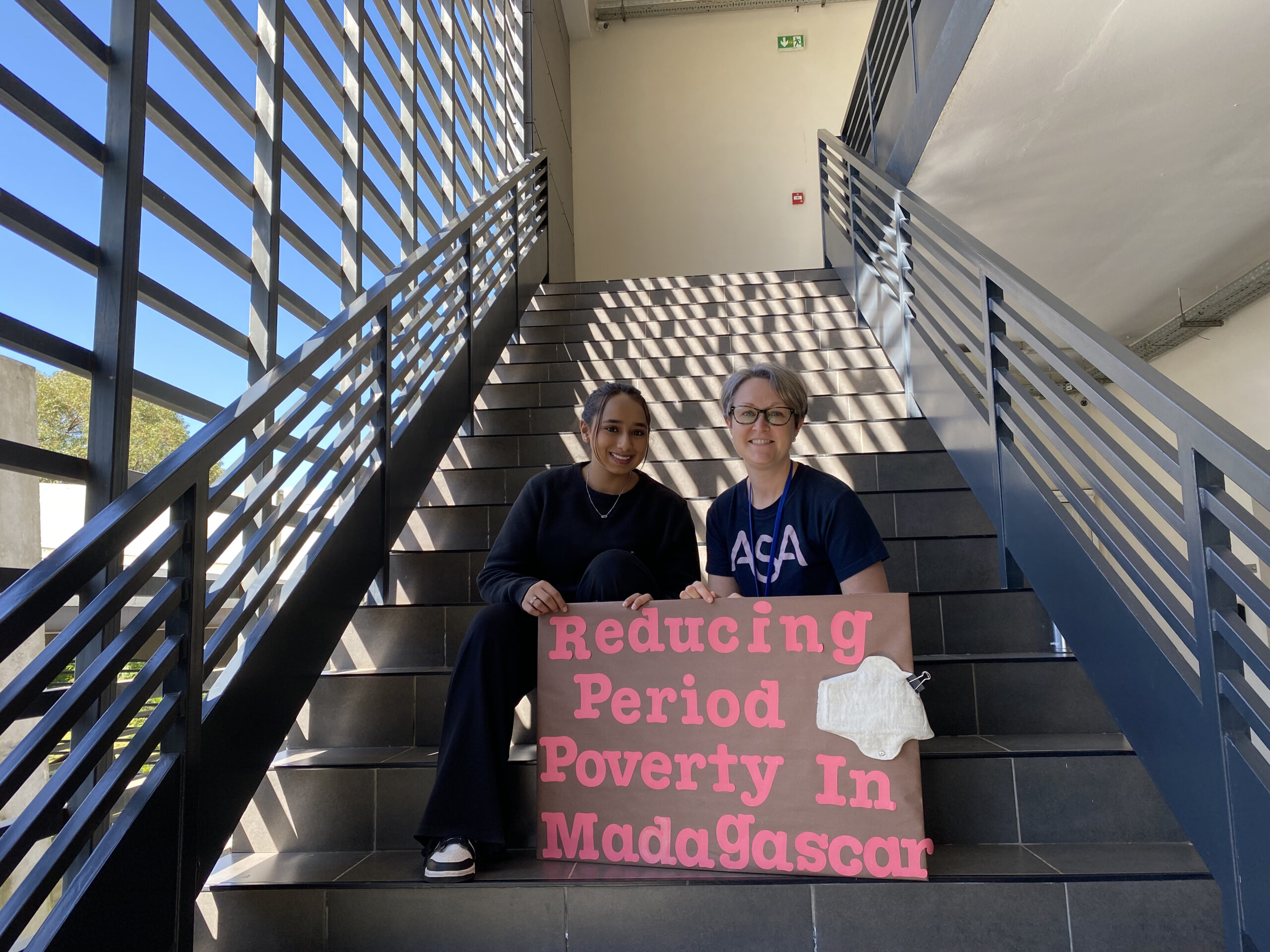 by LeeAnne Lavender
AISA Service Learning Program Coordinator
When grade 10 student Rya M encountered her summative unit in the MYP (Middle Years Program) course Individuals and Societies, she discovered her personal passions converging with course curriculum. 
Rya, a student at the American School of Antananarivo (ASA), was already involved in a personal project that was service-oriented. She is passionate about the United Nations Sustainable Development Goal #5 (Gender Equality) and the ability of girls in Madagascar to access sustainable period products so they can attend school while menstruating. 
"My whole project is about making reusable and washable pads to combat period poverty here in Madagascar," explains Rya. "Period poverty is the fifth biggest killer for women today and it's something that needs much more awareness." 
ASA is trialing the personal project this year while they are implementing the MYP. Rya's class is the first group to prototype the experience, which culminated in an exhibition in March of 2023. 
"I spent months experimenting with different designs and materials to see what would be effective for menstrual pads," says Rya. "I learned a lot about sewing and about what materials were absorbent or not. After experimenting, I created one that is really effective, and I'm going to produce these for distribution here in Madagascar. My goal is to create packs that include two pads along with a flyer to explain how to clean and care for the pads." 
Rya's family is involved with community service projects in Madagascar, so she has a sustainable way to connect with communities where women and girls could use her products, and her family is also helping fund her project, which she plans to extend into her CAS (Creativity, Activity, Service) experience in grades 11 and 12. 
Rya's personal project transformed into a service learning experience when she was able to engage in writing a grant application as part of her Individuals and Societies class. 
"In this last unit, students needed to address an SDG in a less economically developed country and their product was writing a grant application. This is a real life skill and if students go into the Diploma Program next year, they can use this for their CAS proposals," explains Jennifer Hutchings, the Individuals and Societies teacher. "Rya used her personal project as the basis for her Individuals and Societies grant proposal, and was able to connect this to a real community need and the impact her project would have on real people here in Madagascar." 
Jennifer was impressed with Rya's tenacity and her commitment to girls in Madagascar who will be impacted by access to sustainable period products. 
"She didn't just buy a reusable pad and deconstruct it to see how it worked," explains Jennifer. "She created three prototypes so she could really understand the product and the materials, and she worked with the science teacher to calculate blood loss during menstruation and absorbency of the pads." 
ASA is at the beginning stages of building a curricular service learning program, so this example reveals that you can begin by allowing students to connect their interests, skills and talents to curricular objectives. Motivated students can, with guidance, build learning experiences that demonstrate academic learning and positive and impactful service, and those examples can inspire educators to consider course-wide or school-wide service learning goals. 
"I think it will be easy to integrate service learning into Individuals and Societies," reflects Jennifer. "This course is about people and we have so many opportunities to serve the community here. We're in the process of revamping the curriculum to meet the MYP requirements and more authentically do service as action." 
Rya's story is a great entry point for any educator thinking about how to open up opportunities in the existing curriculum for individualized service learning experiences.
Other story stories
By: LeeAnne Lavender,

Many schools may have some embedded curricular service learning, or aspire to build genuine and purposeful service learning programs...

By: LeeAnne Lavender,

The growth of the Carbon Neutral Alliance at the International School of Kenya is an exciting story that features...
See all stories