Every year, AISA honours student leaders and school teams who engage in exemplary service learning in the region, and it's not too early to begin thinking about nominations for the AISA 2021/22 Service Leader and Outstanding Service Project Awards.
The deadline for submissions is still months away (01 March 2022), but as you think about the service learning experiences unfolding on your campus, you may want to check out the criteria for AISA's awards. The criteria capture excellent guideposts for any successful service learning experience and may help your student leaders adjust outcomes to align with best practices.
Individual student leaders are recognised for personal growth connected to service experiences, as well as the student's ability to integrate his/her project with the school's service learning programme and learning outcomes. In addition, student leaders are recognised for the deep understanding they develop with their service partners (communities or individuals).
Outstanding service projects (co-curricular or curricular) are recognised each year for their exemplary community partnerships where tangible benefits for service partners can be quantified. Projects may have a variety of purposes involving positive and sustainable change for the environment, community infrastructures, community spaces and/or assets, or meeting direct needs identified in partnership with community leaders.
An example of an award-winning project from 2021 involved two high school seniors from the American International School of Lagos. The students saw a need for PPE (personal protective equipment) for frontline workers in a local hospital during the Covid-19 pandemic, and they figured out how to print 3-D versions of face shields to be used at the local public hospital. They formed a group called the Rapid Response Team and worked closely with a doctor at the Mainland Hospital Yaba to create an effective design, ensuring the face shields would provide adequate protection for hospital staff. The students also collaborated with professors from the University of West Florida and Cornell University to learn more about the process of 3D printing and develop prototypes. At the end of this service experience, the student team was able to deliver 143 face shields for hospital staff at Mainland Hospital Yaba in Lagos, creating immediate and measurable impact for health care workers in the community. In the photo gallery below, you can see one student working on the design of the face shields, as well as confirmation from the local hospital of delivery of the completed shields.
Photo gallery:
This is a wonderful example of a service project that meets all of the AISA criteria for an outstanding service experience. As you think about service learning at your school this year, think about experiences on your campus that you would like to nominate for the 2021/22 awards.
Follow the links to find out more about AISA's Service Learning Awards and nominate a student or group of students for the Service Leader and Outstanding Service Project Awards.
If you have any questions about the AISA Service Learning awards, or would like support for your service learning program, please don't hesitate to email me at llavender@aisa.or.ke
Written by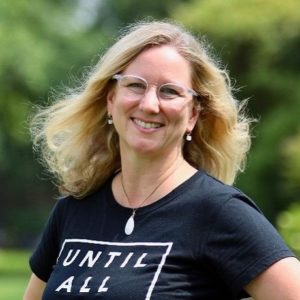 LeeAnne Lavender
AISA Service Learning Advisor
Similar posts
See all posts