For those of us born after the Second World War, COVID-19 has brought about the first mass trauma event in our living memory. As we grieve the loss of more than 4.3 million lives globally and face the accompanying devastation to health care systems and livelihoods, it is little wonder that there is a rise in a range of diverse mental health problems, including anxiety, depression, posttraumatic stress disorder, and other trauma- and stress-related disorders.
The UK Trauma Council describes trauma as a rupture in "meaning-making." This happens when the way you see yourself, the way you see the world, and the way you see other people, are jolted or overturned by an event – and a gap arises between your "orienting systems" and that event, which can cascade into trauma and severe feelings of helplessness.
Prideaux, Ed. "How to heal the 'mass trauma' of Covid-19." BBC Future, 04 February 2021, https://www.bbc.com/future/article/20210203-after-the-covid-19-pandemic-how-will-we-heal
The graph from the Institute for Collective Trauma and Growth (ICTG) is an apt representation of the highs and lows that you, and those around you, may have experienced over the preceding eighteen months. From the initial shock and sudden shift to (the now familiar) lockdowns that sent educators scrambling to put their courses online while parents figured out how to look after their families in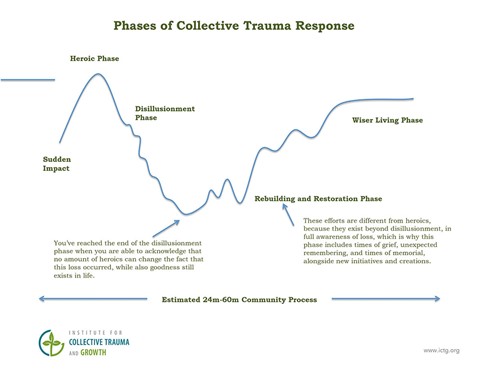 insolation, often in a foreign country, to the utter exhaustion and despondency resulting from the isolation of working and schooling from home, all while trying to manage that lingering uncertainty.
The graph is a helpful reminder that though we all experience COVID uniquely and will respond and cope differently according to our individual circumstances and resources, we are collectively on a journey through this pandemic. Understanding our collective response can help your school assess and react more effectively to the lived experience and needs of your community.
Which Phase is Your School in Right Now?
Consider using this graph to prompt conversations amongst your staff as to where they see themselves and your school community on the graph. While the graph indicates that the process might take between 24 and 60 months to work through, this may be different in your school community. You may even find that different parts of your community see themselves in different phases. Are your students in the same phase as the staff, for instance? Or are your local members of staff experiencing the pandemic differently and, thus, find themselves in a different phase?
Heroic Phase: This refers to the initial response to the traumatic incident, which in COVID terms led to a quick and dramatic shift to online learning and the implementation of health protocols most of our schools had never experienced before. The energy and drive of our educators enabled this pivot to take place in a very short period of time.
Disillusionment Phase: This phase is marked by widespread feelings of exhaustion as the adrenaline of the heroic phase wears off and we begin to process the impact of the event/COVID-19. My sense is that the 2020-21 school year will resonate with many in the AISA community as belonging to this phase.
Turning Phase: The ICTG reports that we will know when our communities have reached the end of the disillusionment phase when people can hold two truths: we can acknowledge the loss that has occurred, and we sense there still is good in the world. Coming to this place takes time, and it is normal and important that the disillusionment phase is experienced before the turning phase – we cannot leapfrog loss as only when we process our loss can growth, healing and restoration occur.
Rebuilding and Restoration Phase: In this phase, we begin to integrate our experience into the new. This phase is characterised by a collaborative effort to creatively move forward. Already many of our schools are talking about what changes made during the pandemic they will keep in the future. Though feelings of sadness and loss may still be present, there is a general momentum forward, incorporating what has been learned.
Wiser Living Phase: This is the 'new normal' phase in which our communities can acknowledge that we are forever changed, but new ways of being and doing have been established, hopefully in beneficial ways for the whole community. We are beginning to understand that COVID-19 is shifting from a pandemic to becoming endemic – something we live with, and that through our resilience, our lives will eventually incorporate this change as we have done others throughout history.
Each of these phases takes time. Recognising which phase your school community is in can give you a sense of clarity about what your community is experiencing and where you are on your journey toward the "new normal".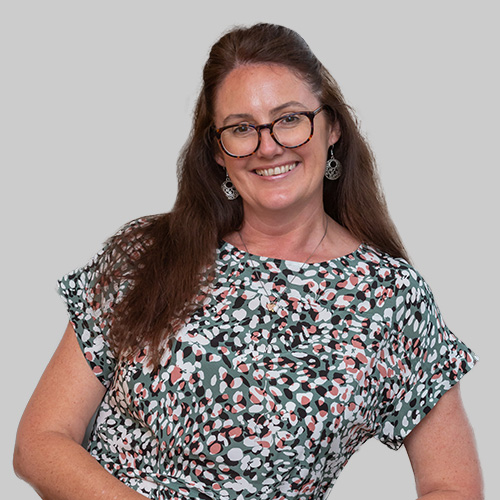 Written by:
Chanel Worsteling
AISA Child Protection and Wellbeing Programme Manager
Similar posts
See all posts